Company Profile
Leading community development
as a comprehensive maker of lighting poles
YS POLE contributes to the creation of functional and beautiful community
development by responding to the needs of the times.
Our goal is to offer lighting poles solutions of the highest global standards
in terms of technology, design, quality and reliability in line
with the latest trends in urban redevelopment, disaster recovery compliancy,
LED lighting, automatic driving readiness, removal of electricity poles and more.
Top Message
Our Challenge: Sharing the Excitement of Creative Solutions!
Yoshimoto Pole, a maker of a wide variety of poles since 1961, and Nippon Steel Metal Products, known as a maker of "Sumipole" products and a pioneer of street lighting poles also since 1961, have now integrated their lighting pole businesses by jointly establishing
"YS POLE Company Limited." With each company bringing more than half a century of experience, technology and corporate philosophy of their respective brands to the new endeavor, the result is the birth of a new, more dynamic brand: "YS POLE".

YS POLE's slogan is "Our Challenge: Sharing the Excitement of Creative Solutions!"
It is important that every employee of the two companies can continue the excitement of taking on challenges together through the open-minded exchange of opinions with a sense of joy and achievement.

We would be able to create new values by combining accumulated business know-how. I strongly believe that our mission is to explore real needs in the market and to offer true abundance to next generations.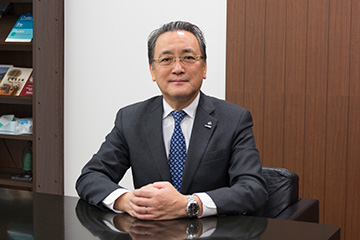 Yukio Suzuki
Representative Director and President

Corporate Profile
Company Name
YS POLE Co.,Ltd.
Establishment
December 5, 2016
Beginning Sales
April 1, 2017
Representative Director and President
Yukio Suzuki
Capital
40 million yen
Stock Holders
Yoshimoto Pole Co.,Ltd. 55%
Nippon Steel Metal Products Co.,Ltd. 45%
Business
Manufacture and Sales of Lighting Poles
(Tapered Poles, Stepped Poles, Straight Poles, Designed Poles, Joint Use Arms, Multipurpose Poles, Information Board Poles, Light Projection Poles, Aluminum Poles, Stainless Steel Poles, Concrete Poles)
Head Office
Yurakucho Building 1-10-1 Yurakucho Chiyoda-ku Tokyo 100-0006 JAPAN
Branch Office
Sappro、Tohoku、Kitakanto、Niigata、Shinetsu、Hokuriku、Nagoya、Osaka、Chugoku、Kyushu